Real Estate Deal App Beta Released for Android
I spent a couple hours today figuring out how to sign and release my first Android Market – yes I know it is now called "Play!" – app.  I have written quite a few Android apps over the last two years, but, oddly, none that I have personally published.  So, here is my debut with a very simple app.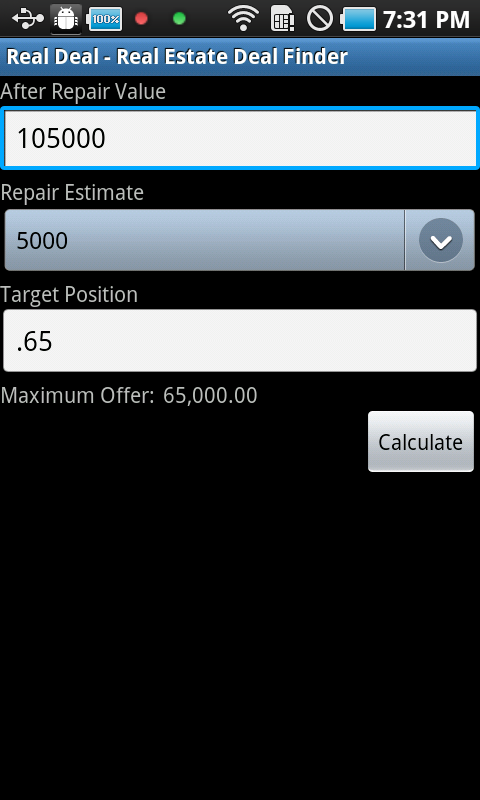 When I realized I was performing the same simple calculations over and over I decided I needed an app to handle that for me.  Hence Real Deal was born.  The app is very simple, but has some potential.
The app uses the following metrics:
After Repair Value – the value of the property if it was "squeaky clean" and "brand new".
Repair Estimate – a spinner of potential repair values.  The spinner's lack of precision is intentional.  Select the number that your estimated repair costs fit within.  For example, if you think there are about $16,000 of needed repairs, select $25,000.  If it costs less, great!
Target Position – what ratio of investment to value do you want to be at when done with the project.  By default it is set to 65%.  Generally if you are only 65% into a property, you should have no issues selling it quickly.
The output is the maximum offer that should be made on the property based on the data you entered.  The calculation is very simple:
(After Repair Value – Repair Estimate) * Target Position
I have some ideas to add, time-permitting, but if you have any ideas or comments leave them below!